A feng shui wedding is quite different from a Western wedding. When planning a feng shui wedding, feng shui principles can guide you in making appropriate choices. Some of the ideas you can consider for a feng shui wedding include color choices. When selecting the wedding decorations, cake, venue, and invitations, you won't go wrong following feng shui rules.
1. How to Choose Feng Shui Wedding Dates
Many couples consult a feng shui astrologer to find the perfect wedding date. If you don't wish to go this route, you can use another branch of astrology to help you select your wedding date. You want to avoid any holidays, festivals, or birthdays.
9 Star Ki for Wedding Date Choices
The 9 Star Ki is a quick way to identify certain dates that are auspicious for your wedding. The 9 Star Ki reveals your birth three stars. You can use the elements and energies of your astrology profile to help you plan the best date for your wedding.
2. What Colors Are Bad Luck for a Feng Shui Wedding?
Unlike Western culture brides who wear white for their weddings, Eastern weddings view white as the color of death. It is the color reserved for funeral wear.
Feng Shui Wedding Dress Colors
For a true feng shui bridal gown, you should opt for red. If that color is too brilliant and too much a break from Western culture, then you might want to consider a lighter value, such as pale pink. You may decide to go with a bolder auspicious color, such as yellow, purple, or magenta. If you can't quite go that feng shui in your wedding dress color, then choose a champagne or cream-colored wedding gown.
3. How to Choose the Wedding Venue
Choose your wedding venue so it is the optimum feng shui friendly. You should only consider venues that provide a lot of natural light. It is best to avoid a venue that is dimly lit and has few windows. The more light your wedding venue has, the more auspicious your marriage will be. You want a venue with high ceilings to raise and contain the chi energy around you. It is always good feng shui to be surrounded by nature. You may find a lakeside or garden venue appealing.
4. Feng Shui Design Hints for Your Wedding Invitation
The auspicious feng shui color for your wedding invitation is red with black lettering. Select a font that is easy to read. The perfect shape for a feng shui wedding invitation is a square. The next best shape is a rectangle. You want a single fold design so both names are on the same page. Red envelopes with black lettering complete your feng shui wedding invitation design.
5. Wedding Décor Options for Auspicious Symbols
You can use red lanterns and the double happiness symbols There are two symbols you may wish to use, the double happiness and the dragon and phoenix ultimate lovers' symbol.
6. Feng Shui Five Elements for Your Wedding
You should incorporate the five elements into your wedding plans. You can do this with the décor for the wedding ceremony and reception. A champagne fountain (water), food warming burners (fire), flowers and plants (wood), ceramics and crystal glassware (earth), and metal serving trays (metal) provide you with plenty of the five elements for an auspicious wedding and reception.
7. Feng Shui Floral Arrangements
You want to have impressive floral arrangements. You should only use fresh live flowers and plants. You don't want to use any dried flowers, since they were once alive. Silk and other artificial flowers and plants are acceptable, but don't provide the grandness of the chi energy given by real flowers and plants.
8. Wedding Guest Seating Using Feng Shui Rules
You want round tables for your reception, although octagon shaped tables are an acceptable feng shui shape. The number of guests per table should be 6, 8, or 10. A live floral centerpiece is a good choice, although you could include the wealth luck symbol of real lemons in an apothecary jar. The lotus blossom is a highly auspicious flower of happiness that makes an exotic centerpiece. You may want to include springs of cherry blossoms in a floral centerpiece.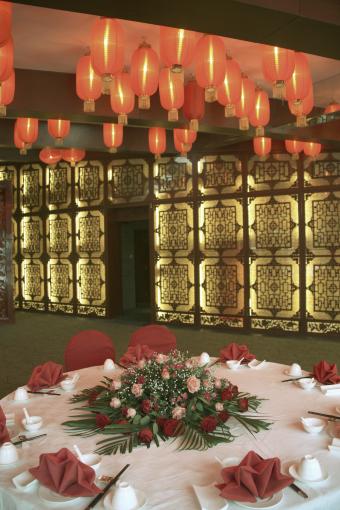 9. Feng Shui Wedding Cake
In keeping with the feng shui color scheme, consider the feng shui colors for your wedding cake. You want to have an auspicious number of tiers. Avoid a single sheet cake since that signifies just one, whereas a two tier signifies a couple. You want to avoid the number four since it means death and is a number avoided in feng shui. Your cake should be round. It can be decorated with confectioner flowers, real flowers, fruits, feng shui symbols, or other auspicious decorations.
10. Plan a Feng Shui Wedding Dinner
If you wish to follow an authentic feng shui wedding dinner, then you will plan on serving an eight course meal with the ninth course being the dessert. Both the number eight and nine are highly auspicious feng shui numbers and including them in your wedding feast will bring you and your wedding guests good luck.
11. Wedding Car for Bridal Couple
The couple's transportation to and from the wedding is an important feng shui consideration. The bigger and more expensive the ride, the brighter the couple's future will be, especially when it comes to their wealth. In today's world, you can always rent an expensive car or limo to transport the two of you. Go with a black vehicle instead of a white one for a truly auspicious wedding car.
Feng Shui Wedding Ideas for an Auspicious Marriage
Choosing various feng shui aspects to include in your wedding can give your marriage a good luck boost. You can choose to go with as much or as little feng shui additions as you are comfortable with using.