Feng Shui Office Examples to Maximize Power and Productivity
Mountain Power Behind You
Feng shui applied to your office space can enhance your work and even boost your career aspirations. This is true for both work and home offices. With the proper office feng shui, you can maximize your productivity and improve your career power.
The picture of a mountain range brings support and strength for your career when placed directly behind your desk. Avoid pictures of mountains and water since water creates a cavity that drains the mountain's powerful energies. Avoid mountains with jagged peaks that create poison arrows.
Glass Doors for Bookcases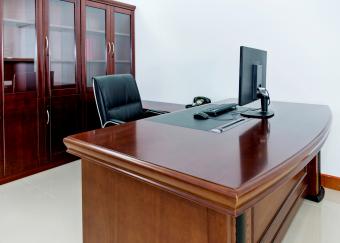 Open bookcases create poison arrows when books and other objects are placed on the shelves. A bookcase with glass doors blocks the inauspicious power that poison arrows generate. A bowed desk front helps chi energy move around the desk.
Kidney-Shaped Desk
A kidney-shaped desk is most auspicious since the chi energy runs around the desk to where you sit inside the curve. Prepare to be energized and full of productive ideas. The lion on the coffee table is auspicious and will protect your career.
South Sector Office
A fireplace in a south sector office will activate your fame and recognition luck. Note the ship on the mantel. A ship sailing into the room, never out, should bear gold ingots, jewels, and coins to symbolize wealth sailing into your life. Never use warships with cannons.
High Back Chair Remedies a Window
Not all offices have solid walls for proper feng shui desk placement. When you must sit with your back to a window, purchase a high back desk chair. This will give you the kind of support a wall would and is a good remedy for this desk placement.
Globes and Plants
Plants in the south sector can activate the fire element; they are also good for east and southeast offices. The desk and table globes are excellent choices for those seeking a mentor. Choose round and oval leafed plants to avoid poison arrows.
Command Desk Position
You want to place your desk in what's known as the command position. This placement is across from the entry door of your office. The ideal placement is diagonally across from the door, but most offices are too small for this optimum placement.
Making Feng Shui Work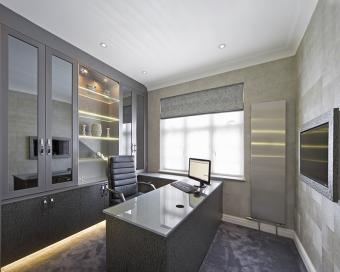 Few offices are ideal for feng shui desk placements. This placement works since the bookcases feature glass doors and the desk chair is high-backed for wall support. If you want to include a mirror, avoid placing a mirror directly across from your desk since it will double your workload. Instead, place art so you can enjoy it during the day.
Modern Desk Return
A desk return design can be placed along the wall, allowing energy to flow to you from the other side.
Lighting along the wall attracts chi energy.
A high back chair will further support your career.
Chi energy can rush toward you underneath an open desk. If you feel overwhelmed, remedy with a closed front desk.
Office Wall Art
You can introduce specific feng shui symbols to enhance your career. For example:
A picture of white narcissus flowers helps your career to blossom with rewards and recognition for your work.
A mountain range picture behind your desk can be colored to match the appropriate compass direction.
First Dollar Earned Display
Many entrepreneurs like to display a framed "first dollar earned" in their new business. Place this on a southeast wall or corner; this sector activates wealth. The example takes advantage of the southeast wall with the "first dollar earned" among a display of a framed coin collection.
South Wall of Fame and Recognition
The south wall is your fame and recognition area and can be used to enhance these aspects of your career. Boost this area with a display of your diploma(s), certifications, awards, and any other forms of work-related recognition.
Applying feng shui principles to your office layout and décor can enhance your career and position at work.