11 Feng Shui Home Office Ideas for Positivity & Prosperity
Your feng shui home office can provide you with incredible support for your daily work. When you take the time to apply easy ideas to your feng shui home office, you'll boost your productivity and advance your career.
1. Declutter Your Feng Shui Home Office First
The main concern for a feng shui home office is like all feng shui projects, clutter. Before you begin applying the 9 feng shui tips, take time to declutter and organize your home office. In many instances, this will enable the changes you make to take immediate effect.
2. Importance of Desk Placement in Feng Shui
Place your desk so you have a solid wall behind you. This will give you the support you need in your career. You should never sit with your back to a window. This position won't give you the support you need and leaves you vulnerable to back-stabbing and company politics.
Position Your Desk Diagonally Across From the Door
The command position is diagonally across from the door leading into your office. You want to see anyone who enters your office. This prevents you from being blind sighted in your job. You never want to face a wall with your back to the door. If you can't avoid such a placement, then you need a round mirror positioned so you can see behind you while you work.
3. Best Feng Shui Desk Size and Shape
The feng shui rule for a work desk is bigger is better. The bigger your desk, the more expansive your career will be. You should never work on a small desk, since this will limit your career opportunities.
Best Feng Shui Desk Shape
Your ideal desk should have a bowed front with rounded corners. This shape allows the chi energy to move around your desk to bring you many opportunities. If you don't have a bowed desk or one with rounded corners, you can still take advantage of the chi energy with a rectangle desk. The rectangle shape offers the expansion of energies. The best desk shape is a kidney shape since it has all the curves necessary to keep the chi energy moving completely around your desk.
Modesty Desk Design
The modesty desk design is the best choice for a feng shui desk. The bottom portion of the desk is closed on three sides. This provides you with protection from being blasted with chi energy underneath your desk. Without this protection, the chi energy rushes underneath your desk and creates a nervous, anxious energy that will negatively impact your work. You may always feel rushed, behind on your schedule, at odds with a work-life balance, and constantly on edge. A modesty desk defines your workspace and keeps the chi energy focused on your work.
4. Ideal Feng Shui Desk Chair
Just as important as your desk, the chair you sit in while you work can greatly impact the feng shui of your workspace. You want a high-backed chair with arm rests to support you while you work. If you have no option but to sit with a window behind you, then select a substantial desk chair that has a very high back to symbolize the support you need in your career.
Avoid Low Back Chairs
Avoid a low back chair since it does not support you the way a high-back chair can. If you work sitting in a low back chair, especially one that is armless, you will often feel vulnerable to forces out of your control.
5. Feng Shui Home Office Layout
In addition to the right desk, chair, and placement, you may need additional seating for anyone visiting your office. This may be a client, friend, or family member. You need to have an inviting office to encourage your business growth. Even if you are not self-employed, setting up your office the way it would be in a corporate setting can expand your career opportunities.
Chairs in Front of Your Desk
To accommodate anyone needing to sit down in your office to talk with you, a chair should be placed in front of your desk opposite your chair. If you receive clients in your home office, then you should place two matching chairs directly in front of your desk. The design and style should match your office décor so the chairs are a natural deliberate part of your feng shui design. Two chairs symbolically attract twice the number of clients.
6. Feng Shui Home Office Colors
The best way to choose the color for your home office is to select a color from the bagua sector color palette. This color choice will support the element that rules the sector where your office is located and symbolize the support of this element.
7. Power of Water Feature
You can install a small water feature in your office to stimulate your career. You can place an aquarium or tabletop water fountain on the north wall or southeast corner. If using a water fountain, you want to make sure the water flows into your office, not out the door or a window.
8. Mirror No-Nos
You can place a mirror in your office as long as it is directly across from the door leading into your office. This placement will bounce opportunities out of your office before they can enter. Another placement you want to avoid is directly across from your desk or any placement that reflects your desk. This type of placement will double your workload.
9. Lighting for Your Feng Shui Home Office
It is imperative that you have ample lighting in your feng shui home office. If your office is in the north sector of your home, then natural light will be an issue for most of the day. You can use several types of lighting to address this issue and other lighting needs.
Light Up Your Career and Earning Power
You want all four corners of your office to be well lit. Use a couple of floor lamps, along with table lamps, to ensure you have enough light. You need a task light or lamp for your desk. Recessed ceiling lights on a dimmer switch can provide ambient lighting for dreary rainy days. If possible, you want a light at the entrance into your office, such as a torchiere floor lamp. The lighting in your office will attract yang energy to keep your career energized and stimulate your earning potential.
10. Live Plants to Energize Your Feng Shui Home Office
You want to place a few live plants in your office, preferably in the east and southeast areas of your office. Be sure to select plants that have rounded or curved leaves. You don't want any prickly or pointed leaves that create poison arrows. A lucky bamboo plant or money tree plant are both good choices for a home office.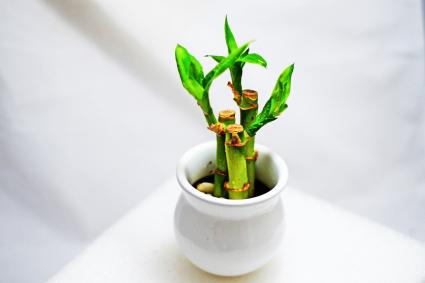 11. Bookcases and Open Shelves
Storage is always a prime concern for any home office. In feng shui, books on shelves can create poison arrows that will impact your work, health, and wealth. Feng shui offers two solutions for books on shelves. The first is the easiest, since you invest in a bookcase that has either glass doors or wood doors.
Remedy for Open Bookcases and Shelves
If you are using open shelves or bookcase, there is an easy feng shui solution to poison arrows books can create. The feng shui remedy is to align the book spines so they are even with the edge of the shelf. This will alleviate any irregular placements of books that create poison arrows.
Helpful Feng Shui Home Office Ideas and Solutions
When you explore feng shui home office ideas and solutions, you discover having a feng shui office is easy. You will reap any effort you put into creating a feng shui home office.