Design a Feng Shui Nursery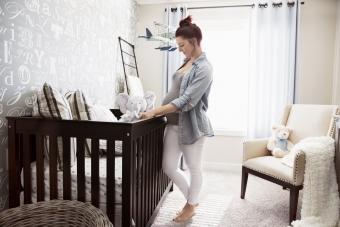 If you are looking for a way to make sure your new little baby has a peaceful and restful room, you might want to consider tips to design a feng shui nursery. Feng shui for nursery design is less concerned with things like the style of the furniture, the color of the bedding, or the decorating theme of the room. Instead, it addresses ways to make sure babies have an environment which is calming for them and fosters their growth.
Feng Shui Design Advice for Your Baby's Room
If you want to give Feng Shui nursery design a try in your home, you can do so relatively easily. Likewise, you can also make it work with many of the themes and ideas you may already have in mind for your baby's nursery. Give these ideas a try to create your feng shui baby haven.
Choose the Right Room
According to feng shui, the nursery location has a big impact on your infant's growth and health. The ideal feng shui location for a child's room is made by gender and order of birth. These locations are determined by the compass direction of the bagua trigram or sector.
The eldest daughter's room should be in the southeast.
The middle daughter bedroom is best placed in the south sector.
The youngest daughter is happiest in the west sector.
The eldest son's bedroom is ideally in the east sector.
A middle son will thrive in a north sector bedroom.
The youngest son's best bedroom location is the northeast
Places to Avoid a Nursery
There are a few places you don't want to locate a nursery. Rearrange your living quarters if necessary, to avoid these locations.
You should not use a bedroom over a garage. The garage has inactive or stagnant chi energy and will affect the chi energy in the nursery.
The nursery shouldn't be located by a busy street or road with lots of traffic and noise.
Don't place the nursery directly underneath a bathroom.
A nursery should not be at the top of a staircase.
Avoid setting up a nursery beside the kitchen.
Consider the Color
Feng shui principles have a lot to say about colors; different colors are said to stimulate different parts of your life. These are guided by the sector where the bedroom is located.
Balanced Colors
Children's rooms should always have more yang energy than yin since babies especially are growing. The yang energy is necessary to stimulate your baby's brain and senses. This can partly be achieved through the use of color.
Just Enough Yang Color
Find a middle ground when it comes to colors for a balanced color palette, not too yin and not too yang. You aren't limited to just soft pale colors for a nursery. Choose a mix of one medium color offset by two softer hues for a balanced palette. White is a great color since it is bright and reflective, but it should be softened by introducing a mix of color values not as light reflective.
Ideal Lighting
A child's room should be bright and lively with plenty of natural light. The tracking sun from morning to evening is ideal for your baby's natural awake-sleep circadian rhythm. Layer ambient lighting with torchiere floor lamps, tabletop lamps, wall scones and a small night light.
Install Blinds or Shades
An afternoon nap can be enhanced by softening the light with window blinds or a shade. Once nap time is over, open the blinds/shades to allow the yang energy of the light to fill the nursery once more.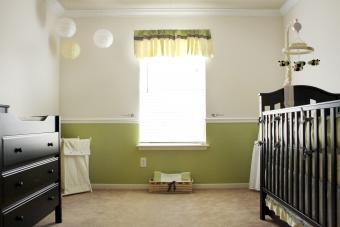 Keep Baby's Nursery Clutter-Free
There should be a place for everything and everything in its place. Nothing interferes with chi energy flow like a room full of clutter. Keep your baby's room neat and tidy.
Feng Shui Tips for a Great Nursery Design
There are several feng shui tips that help you create a great nursery design. You want your baby to be nurtured and feng shui can assist you in optimizing the chi energies.
Decorations to Avoid
There are a few things you want to avoid when it comes to decorating your baby's nursery. Feng shui rules advise:
Don't sleep with anything overhead, especially ceiling fans directly over the bed, this includes children's mobiles. Instead suspend the mobile in the center of the room.
Mirrors in a bedroom shouldn't reflect the crib.
Avoid photos, wall decals, pictures, artwork, and stuffed animals that portray a fierce and frightening animal pose.
Draperies, upholstery, bedding and wallpaper patterns should be simple and not overpowering in design patterns or colors.
Use Elements to Activate Chi
One way to activate yang energy is to use the corresponding sector element. This shouldn't be overdone. For example, the chi energy of a nursery in the northeast or southwest sector can be activated with a small crystal.
Crib Placement
You want to follow feng shui bed placement rules when it comes to setting your baby's crib. Some of these are especially important for infants.
Don't place the crib opposite the door or in front of a window.
Don't place the crib in the middle of the room. Ideally, the headboard should anchor the crib against a solid wall.
Place the crib so your baby sleeps with her/he head pointing in the fu wei (personal growth) direction as determined by calculating your child's kua number.
Avoid placing the bed in the line of poison arrows, such as protruding wall corners, furniture corners or overhead exposed beams.
Ideas to Help You Design a Feng Shui Nursery
If you follow practical feng shui principles and rules when designing your nursery, you'll end up with a powerful and nurturing room. Your infant will flourish in a feng shui designed nursery that will continue to support her/him throughout childhood.