3 Feng Shui Stores for Cures, Statues, and More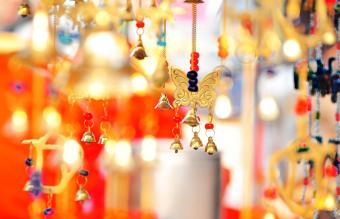 Now that you've learned about feng shui, like many people, you may be at a loss when it comes to finding specific remedies or cures. A feng shui store listing can reduce the amount of time you spend searching online. For example, if you wish to find a Laughing Buddha or need lavender essential oils to invite tranquil chi energy, then you should visit the stores listed below.
Feng Shui Best Buy
There are many advantages to shopping at Feng Shui Best Buy; the biggest one is their collection of feng shui products. In addition, their prices are reasonable and all of the items offered on the website are broken down into useful categories.
Helpful Feng Shui Remedies and Cures
Several of the categories that warrant special consideration include Buddhist and Taoist Religious Statues, Auspicious Amulets and Money Frogs, which are also known as three-legged toads, three-legged frogs or "Chan Chu". You can expect to pay anywhere from $12 for a wind chime to $268 for the Standing Kuan Yin on Dragon.
Buddhist and Taoist Religious Statues
In this Buddhism category, the store offers a wide array of Buddha statues that also includes the popular Laughing Buddha as well as other religious icons such as the Goddess of Mercy and the Thousand Hands Goddess of Mercy. You can purchase a statue starting at $28 up to $268, depending on the type and style.
Auspicious Amulets
Many of the amulets offered from this retailer are ones you can hang in your home or wherever you need them, or you may prefer to carry one with you to provide protection. Examples of these amulets include the Amulet of Double Happiness-Mystic Knot Combo, the Stress and Depression Eliminator in the shape of Wu Lou and the Amulet of Three Celestial Protectors. The prices in this category range from approximately $20 to $50.
Three-Legged Toad
Toads and frogs symbolize wealth in feng shui and the money frog category of Feng Shui Best Buy provides you with a nice selection of these symbols of prosperity and good health. Among the many beautiful money frogs offered is a Laughing Buddha riding on a money frog made of bronze, a 24 karat gold plated bejeweled money frog and a Balinese styled money frog made of compressed stone. The prices range is from approximately $13 to $60.
Feng Shui Emporium
Feng Shui Emporium is very similar to Feng Shui Best Buy, but this is actually a good thing since it will allow you to compare prices to get the best possible deal.
Different Category Listings
This site is also broken down into categories although grouped differently than Feng Shui Best Buy. Instead of a category listed as Auspicious Amulets, you'll find a protection amulet listed under the Cures for Home and Office category. This is great for the novice who may not yet know what to call specific cures or remedies of feng shui.
Available in Various Sizes
Additionally, a few of the items featured come in three different sizes, such as small, medium or large. This allows you to purchase products that are the appropriate size for your needs. As a result of varying sizes, the asking price can carry anywhere from $15 to $45 or more.
Feng Shui Mall
If you're looking for feng shui cures and remedies this website often runs specials, so bookmark and visit often. The categories are many and broken down according to feng shui items. The Feng Shui Mall also offers categories for each sector such as home, office/career, fame, wealth, health and the other areas of your life. The pricing is reasonable in a range.
Annual Cures
You can find a range of feng shui cures for the current year, such as 3 killings cures, flying star cures, 24 mountains, and Tai Sui (Grand Duke of Jupiter) appeasers.
Shop by Rooms
The website features a convenient grouping of items in a category, Aspirations/Room. You can find feng shui cures and items specific for a few rooms and aspirations (specific for sectors).
Start Shopping
A feng shui store listing is a great way to find some of the best online feng shui websites to save you browsing time! Be sure to compare and contrast the available products on each site listed before deciding which items are really a must-have.