Craft ideas created for feng shui applications are fun ways to personalize your feng shui design. You can introduce yin yang balance by creating a symbol of harmony.
Make a Yin Yang Design
A yin yang symbol design is a brilliant way to express the importance of achieving harmony and balance in your life. You can draw two different suns or you may want to emphasize the dark (yin) and light (yang) with a moon and sun, respectively.
Gather Your Supplies
You will need a few materials before you start. Choose the medium you wish to use, such as a medium to heavy weight drawing paper, pencil and ink or a canvas with acrylic paints. Supplies for a pen and ink drawing of a yin yang symbol:
Drawing paper
No. 2 pencil
Black gel pen
Drawing compass
Art eraser
Ruler
Drawing board (optional)
Artist masking tape (optional
Instructions for Drawing a Yin Yang Sign
The first thing you want to do is secure your paper. You may work from a drawing paper pad or tablet, or a drawing board. If you're using a drawing board, then tear off four pieces of masking tape and apply to the corners of the paper to secure it to the board.
Draw a circle using a drawing compass.
Using a ruler or other straightedge, draw a vertical line through the center. The center is where you placed the tip of your compass.
Draw a horizontal line that intersects the vertical line.
Measure the length of the vertical line from the outer edge of the circle to where the two lines intersect.
Divide this figure by two and mark this place with a pencil.
Repeat on the other half of the vertical line.
On the lower half of the circle, place the pointed end of the compass on the halfway mark.
Draw a half circle in the lower left portion of the circle.
Move the compass to the upper halfway mark and draw a half circle in the upper right portion of the circle.
You now have a yin yang symbol.
The left side of the yin yang symbol ascends to the top and the right side descends to the bottom.
Once more place the pointed end of the compass on the halfway mark for the lower portion and draw an eye. Repeat on the upper portion of the circle.
You can fill in the right side of the symbol with either black or a dark color.
Be sure you leave the eye on the dark portion white and eye on the white portion should be colored black or dark color.
Draw a Decorative Yin Yang Symbol
You can be as creative as you desire in drawing your yin yang symbol. You may decide to create a sun and moon yin yang symbol or an intricate patterned mandala. Use colors that match the sector where you want to hang your creation. Freehand yin yang sun and moon drawing:
Create a mandala inside yin yang symbols:
Where to Place Your Yin Yang Art
There are several excellent placements for yin yang art. This symbol is ideal for a home office where you may need balance and harmony, especially on busy workdays. If your love relationship has hit a rough patch, place your artwork in the southwest corner of your bedroom to restore harmony and happiness.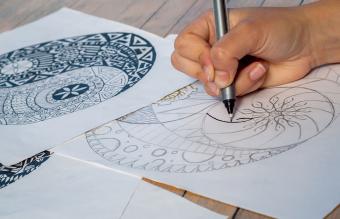 Easy Lotus Blossom 3-D Shadow Box
You can create a very easy symbol of peace and harmony with a 3-D shadowbox featuring a foam lotus blossom. This is a great symbol of love, harmony and peace.
Artificial Flowers Can Be Used in Feng Shui
You don't need to avoid using artificial flowers and plants in feng shui designs. Unlike taboo dried flowers or herbs, artificial flowers and plants were never alive, so they don't generate negative (sha chi) energy. While fresh flowers and plants provide auspicious yang energy, you can safely use artificial flowers and plants in feng shui décors for good alternatives when you need permanent decorations.
Collect Your Supplies
Before you start, make sure you have all the necessary supplies to complete your feng shui project. You are free to use the brand you prefer for any of these items. Supplies you'll need include:
Foam lotus blossom
Shadow box (black or other color) Choose a square shadow box that is at least one inch larger than the flower diameter.
Background colored cover weight paper (stock card paper 65 lbs to 80 lbs)
Craft glue
Instructions for 3-D Shadow Box with Lotus Blossom
You want to select a shadow box that goes with your overall decor. A black box will create a very dramatic effect, but you may prefer a white or different color.
Remove the back of the shadow box.
Use the back for tracing the size needed onto a piece of colored cover weight paper or card stock paper.
Cut out the colored paper to use for the background.
Mount the lotus blossom on the paper using craft glue to secure it.
Allow glue to thoroughly dry before placing into the shadow box.
Replace the backing and either mount on the wall or use it as a standing frame.
Tip One
If you want your shadow box design to be glitzy, you can use a larger frame and cover a chipboard with glitter paper in place of card stock or cover weight paper. You may prefer to choose to sparkle up the shadow box with a little glitter glue.
Tip Two
You can use a rectangle frame, you can add a cluster of three crystals to activate the northeast or southwest earth energy. The lotus blossom combined with the earth element will boost your love relationship luck sector (southwest) or your education luck sector.
Where to Place Your Lotus 3-D Shadow Box
In addition to placing your lotus 3-D shadow box, you can place it in the east (health) sector or the southeast (wealth) sector to bring balance and harmony to either sector. If you know your kua number, then you can place this very auspicious feng shui symbol in your personal Tien Yi (health) direction. If you're having difficulty or arguments with your children, place your new creation in the west sector of your home to smooth over the discord.
Feng Shui Font Calligraphy Art
In calligraphy style, you can draw a Chinese character to use as feng shui word art. For example, if you need to bring success to your career, you can draw the character for success, frame it and place it on the north wall of your home or office. Supplies needed include:
Calligraphy pen and ink, paint brush and black paint, or a black marker
Piece of rice paper, watercolor paper, drawing paper, or other textured paper (white or colored)
Drawing board (optional)
Artist masking tape (optional)
Pencil
Example of Chinese character
Mat (optional) and frame
Instructions for Feng Shui Font Calligraphy Art
Select the appropriate Chinese character you wish to draw. Decide on the medium you want to use and the type of paper. If using a drawing board, secure the corners of the paper with masking tape to the drawing board.
Determine the size of the font you wish to draw.
Use a pencil to gently outline the character onto your paper.
Use the medium you select to draw a broader/wider character over the penciled outline.
Allow ink or paint to dry.
Frame your drawing.
Hang on the wall or use as a standing frame.
Where to Place Your Chinese Font Calligraphy
Once you've framed your artwork, you want to find the perfect place to display it. The sector where you place it depends on the word you chose. For example:
Success: You can place this word in one of these sectors, north (career), northeast (education), east (health), southwest (love relationship) and so on. Any sector where you desire to be successful is the appropriate placement.
Zen: This word can be placed in your meditation room or bedroom.
Buddha: This word blesses your home and can be placed right inside your front entryway, living room or northwest (mentor) wall in your office.
Happiness: The ideal placement for this word is the southwest sector (love relationship) or west (descendants) sector.
Health: Place this in the east (health) sector or your personal Tien Yi (health) direction.
Peace: If you need peace in your life, place this word art in your living room. If you need peace at work, place it in the north (career) sector.
Using Feng Shui Craft Ideas for Home Décor
There are many feng shui craft ideas you can use in your home. Select the one(s) that best fits your current life situation or area where you need a little boost